My Settings
Select your browsing options below
83844
Giant Stance 29 2 Mountain Bike
1,845.52
2,306.90
-20
Giant Stance 29 2 Mountain Bike
NOW:
NOW:
€
1,845.52
1,845.52
(inc. VAT)
FREE Delivery to UK Mainland
MODERN MOUNTAIN BIKE TRAILS ARE FUN FLOWY AND CHALLENGING. THIS FULL-SUSPENSION 29ER GETS YOU IN SYNC WITH THE TERRAIN SO YOU CAN RIDE WITH MORE CONFIDENCE AND HAVE MORE FUN.
Attainable trail performance
Handcrafted with lightweight, stiff and durable ALUXX aluminum, it's the perfect entry to full-suspension performance.
Smooth suspension
FlexPoint Suspension technology helps you tackle challenging terrain and improve your trail riding capabilities.
29er confidence and control
Larger diameter wheels roll over rugged terrain with balance and stability, giving you the momentum to tackle technical climbs and the confidence to fly on singletrack descents.
| | |
| --- | --- |
| Frame | ALUXX-Grade Aluminum, 120mm FlexPoint suspension |
| Fork | Giant Crest 34 RCL, 130mm, Boost 15x110 QR, custom tuned for Giant |
| Shock | Suntour Raidon R, 184.15/44.45 |
| Handlebar | Giant Connect Trail, 780x31.8mm |
| Grips | Giant Sole-O |
| Stem | Giant Contact S:50mm, M:50mm, L:60mm, XL:70mm |
| Seatpost | Giant Contact Switch dropper, remote S: 100mm travel / 30.9 x 345mm M: 125mm travel / 30.9 x 395mm L: 150mm travel / 30.9 x 440mm XL: 150mm travel / 30.9 x 440mm |
| Saddle | Giant Romero |
| Pedals | Not included |
| Shifters | Shimano Deore M4100, 1x10 |
| Rear Derailleur | Shimano Deore M5120 |
| Brakes | Tektro/Shimano BR-MT200, hydraulic, Shimano RT-26 rotors [F]180mm, [R]160mm |
| Brake Levers | Tektro/Shimano BL-MT201 |
| Cassette | Shimano Deore, 11-46 |
| Chain | KMC X10 |
| Crankset | Praxis Cadet M24, 30t S:165mm, M:170mm, L:170mm, XL:170mm |
| Bottom Bracket | Praxis, press fit |
| Rims | Giant AM 29 sleeve-joint rim, 30mm inner width |
| Hubs | [F] Giant Tracker Performance Boost 15x110, sealed bearing [R] Giant Tracker Giant Sport QR141, loose ball |
| Spokes | Sapim |
| Tyres | Maxxis Forekaster 29x2.35, wire, EXO, TR, tubeless |
| Extras | Factory set up tubeless, max tyre size 2.4, max chainring size 32t |
Specificiation subject to change
Please be aware that the images and description above are usually supplied by the brand / manufacturer and are in no way affiliated with Cycle Centre Congleton Limited T/A CycleStore. Cycle Centre Congleton Limited T/A CycleStore only resell items from third parties and do not design or manufacture any products.

Sizing Guide for Giant Bikes
General Guidance:
It is possible to ascertain a close approximation of the correct bike size required using the simple calculation below. However, please be aware of height, for example someone who is 6ft with a 30" inside leg versus someone who is 5ft with a 30" inside leg may need a larger frame because their body would be longer. The bigger the frame size, the longer the top tube.
The calculation that can be used to estimate your required frame size are below:
(N.B. All these measurements are a guide and Giant recommends that to get a proper idea of correct size it is best to physically sit on a bike at a local Giant dealer).
Take the inside leg measurement to the floor. Subtract 3" for mountain bikes, or 1" for road bikes, then subtract 10" which is the average distance from the bottom bracket to the ground. This will then give the approximate frame size that will be needed.
Contained in the following tables are further guides for sizing on different Giant models: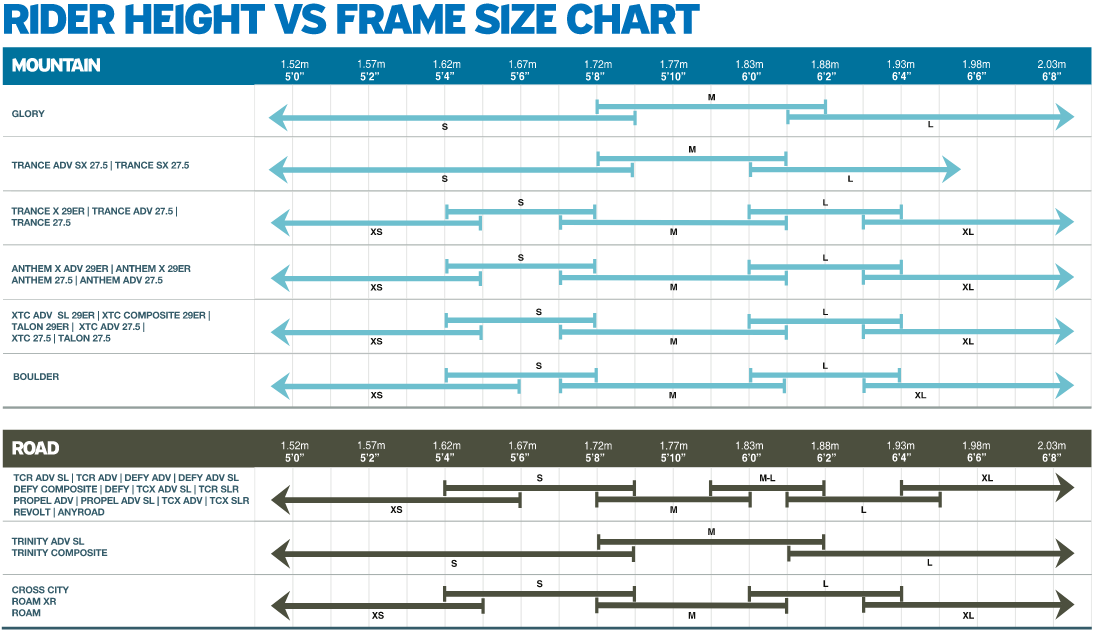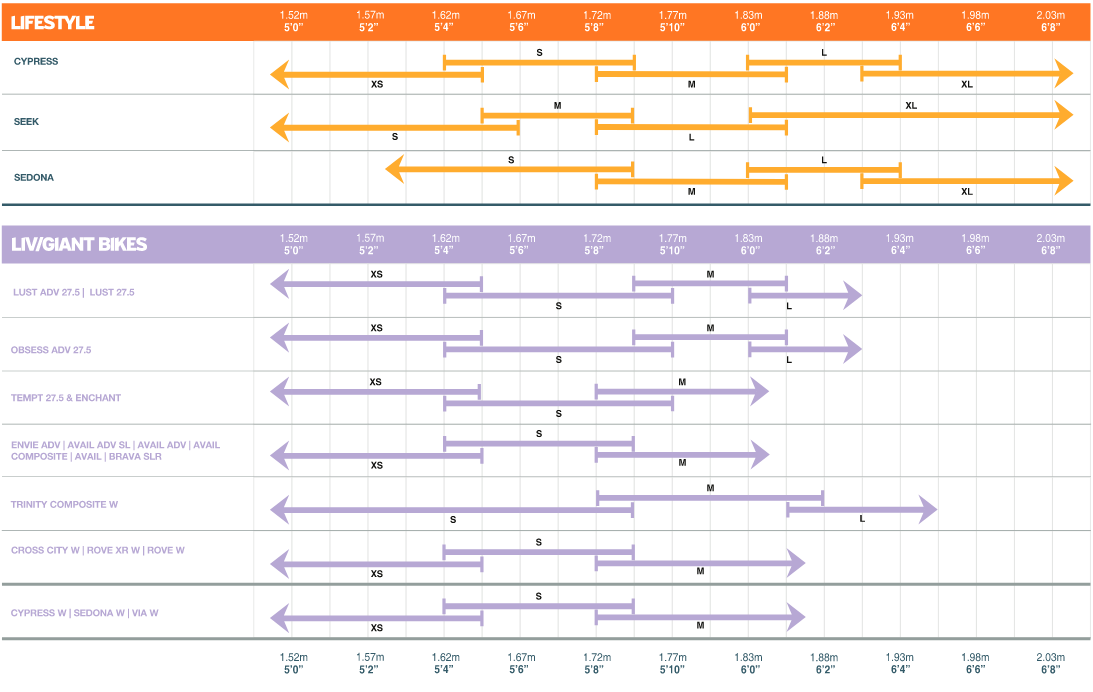 TCR Sizing
| | | | |
| --- | --- | --- | --- |
| Size | Measurement | Approx height range | Top tube length |
| XS | 42cm | 4ft 11 – 5ft 2 | 515mm |
| Small | 46.5cm | 5ft 2 – 5ft 6 | 535mm |
| Medium | 50cm | 5ft 6 – 5ft 9 | 555mm |
| Medium/ Large | 53.5cm | 5ft 9 – 6ft | 570mm |
| Large | 55.5cm | 6ft – 6ft 3 | 585mm |
| XL | 58.5cm | 6ft 3 – 6ft 7 | 610mm |
OCR Sizing
| | | | |
| --- | --- | --- | --- |
| Size | Measurement | Approx height range | Top tube length |
| XS | 48cm | 4ft 11 – 5ft 2 | 515mm |
| Small | 51cm | 5ft 2 – 5ft 6 | 535mm |
| Medium | 54cm | 5ft 6 – 5ft 11 | 555mm |
| Large | 57cm | 5ft 11 – 6ft 3 | 575mm |
| XL | 60cm | 6ft 3 – 6ft 7 | 595mm |
SCR Sizing
| | | | |
| --- | --- | --- | --- |
| Size | Measurement | Approx height range | Top tube length |
| XS | 43cm | 4ft 11 – 5ft 2 | 510mm |
| Small | 46.5cm | 5ft 2 – 5ft 6 | 530mm |
| Medium | 50cm | 5ft 6 – 5ft 11 | 550mm |
| Large | 55.5cm | 5ft 11 – 6ft 3 | 575mm |
| XL | 58.5cm | 6ft 3 – 6ft 7 | 600mm |
FCR Sizing
| | | | |
| --- | --- | --- | --- |
| Size | Measurement | Approx height range | Top tube length |
| XS | 42cm | 4ft 11 – 5ft 2 | 520mm |
| Small | 46.5cm | 5ft 2 – 5ft 6 | 535mm |
| Medium | 50cm | 5ft 6 – 5ft 11 | 550mm |
| Large | 55.5cm | 5ft 11 – 6ft 3 | 575mm |
| XL | 58.5cm | 6ft 3 – 6ft 7 | 600mm |
Mountain Bikes (Hardtail)
| | | |
| --- | --- | --- |
| Size | Measurement | Approx height range |
| XS | 14" | 4ft 11 – 5ft 2 |
| Small | 17" | 5ft 2 – 5ft 6 |
| Medium | 19" | 5ft 6 – 5ft 11 |
| Large | 21" | 5ft 11 – 6ft 3 |
| XL | 23" | 6ft 3 plus |
Mountain Bikes (Full Suspension)
| | | |
| --- | --- | --- |
| Size | Measurement | Approx height range |
| Small | 16.5" | 5ft 3 – 5ft 6 |
| Medium | 18.5" | 5ft 6 – 5ft 11 |
| Large | 20.5" | 5ft 11 – 6ft 2 |
| XL | 22.5" | 6ft 2 plus |
Children's Bikes
| | |
| --- | --- |
| Size | Approximate age range |
| 12" | 2-4 years |
| 16" | 4-6 years |
| 20" | 5-7 years |
| 24" | 7-9 years |